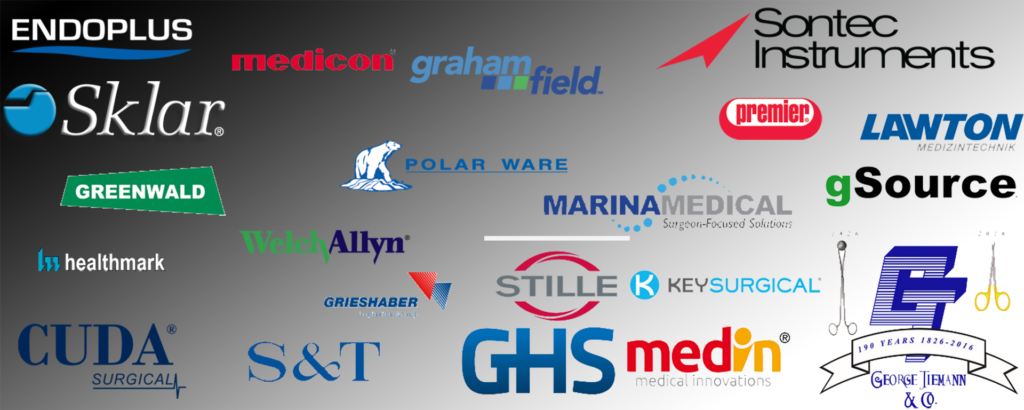 SPECIALTY INSTRUMENTS
For instruments you are unable to find or are discontinued, we have customized instrument manufacturers in Europe and the US to help meet those needs.
Contact Us!
Quality Product Lines Available
ANCHOR
Needles; disposable and reusable
CAT PAW RETRACTOR
Small hand retractor for use in carpal tunnel surgery.
COAG
Coagulation forceps: 5" or 7" Bayonet style monopolar & bipolar (BOVIE) & made to order specialty items
CUDA
Fiberoptic headlights and accessories
ENDOPLUS
Laparoscopic instruments with flush ports; custom lengths & custom designs
GENERAL HOSPITAL SUPPLY
Tray liners and corner protectors
ETCH-MAKER
Marker and accessories
GEORGE TIEMANN
Ortho instruments
GOMCO
Circumcision clamp; all sizes and parts
GRAHAM FIELD
Stainless steel med cups, emesis basins, solution bowls, Goldnamer ear basin, etc.
GREENWALD
Urological cutting loops and accessories, electrodes (Olympus, Storz and ACMI equivalent)
GRIESHABER
Specializing in retractors and vag specs; i.e. Balfour abdominal retr, DeVilbiss vag specs
GSOURCE
Ortho instruments, K-Medic equivalent
HEALTHMARK
Sterilization, decontamination, storage and security products
JARIT
Surgical, cardiovascular, eye, micro neurological, orthopedic and laparoscopic instrumentation: SUPERCUT and Tungsten Carbide needle holders and scissors
KEY
Suture boots vascular ties (vessi loops), tip guards and marking tape
LAWTON
Surgical instruments
LUXTEC
Headlight systems; Xenon and Halogen
MARINA
Lletz procedure and Zeppelin (Z-Clamps) instruments; Disposable and reusable OB/GYN specialty instr., Mogen circ. Clamps and Bookwalter Retractors
MEDICAL STERILE PRODUCTS
Specialty blades (Beaver equivalent)
MEDICON
Surgical instruments; General, Ortho, Plastics, Neuro
MEDIN
Containers (like Genesis), trays, silicone mats, instrument racks and accessories
MICRINS
Micro-Surgical instruments and S&T products
MILTEX
Surgical & plastic surgery instruments and dental; Storz equivalent; Tungsten Carb needle holders and scissors
OLSEN
Electro-surgical bipolar/monopolar instrumentation
PADGETT
Plastic surgery instruments
POLARWARE
Stainless steel med cups, emesis basins, graduates, and solution bowls
POPPER & SONS
Biopsy, anesthesia, cardio & hypo needles (BD equivalent)
PREMIER
Stainless steel trach tubes; OB/GYN, and Dental
REDMOND / R&B
Neuro/spinal instruments
REUSABLE BAYONET CAUTERY FORCEPS
Identical to Cameron Miller Bayonet Cautery Forceps, 7 – or 5 – inch with 10′ cord & plug.
RUSCH-PORGES
Catheters, esophageal bougies, dormia stone baskets, urological and anesthesia products and prostatectomy clamps
SKLAR
Surgical instruments, including left-handed needle holders
SONTEC
Titanium and cardio instruments
S&T
Micro-surgical instruments
STAINLESS STEEL
Reusable Edwards bed cord clamp
STERION/STERIS
Sterilization container systems and accessories
STILLE
Micro-surgical instruments
TYCOS
Blood pressure equipment
NEED REPAIRS?
Laparoscopic, general, cardiovascular, etc.
Contact Us!
If you need a hard to find item,
Contact Us!